Some interesting information about frogfish.
Frogfishes are a type of anglerfish that belongs to the family Antennariidae in the order Lophiiformes. The family has over 40 species in 13 genera. Of these, Australia has 23 species in 12 genera. The numbers of species in this family will almost certainly increase as research and collecting continues.
They are generally small fish averaging from 10 to 20 cm. in length with big globoid heads. Most anglerfishes have warts, whisker-like filaments, lumps, and bumps on the body. They come in different colors and at times change its color to match its surroundings as a form of camouflage. Frogfishes swim in an unconventional way; they use 'jet propulsion' to 'walk' on their pectoral fins!
One distinct characteristic that differentiates frogfishes from another angler fish is the appearance of three extended dorsal fin spines on their heads. Their first dorsal fin acts as a luring tool to attract prey. The lure consists of a 'stalk' (illicium) and a 'bait' (Esca) and may resemble a worm, crustacean, or small fish.
Frogfishes are usually found dwelling in sponge gardens, rocky and coral reefs, at up to 100 meters (330 ft) depth. Here are some species of frogfish.
Clown Frogfish (Antennarius maculatus)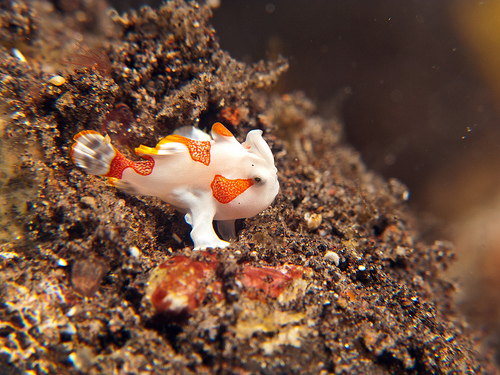 A small frogfish that grows to about 8-10 cm in length that are usually white or yellow and comes with the red or brown blemish. The skin is covered with warts and some rounded spots. Clown frogfish second dorsal spine has a big crust and generally pushed forward when the animal crawls on the bottom. Their common habitats include: lagoon, bay or in back reef.
Striped Anglerfish (Antennarius striatus)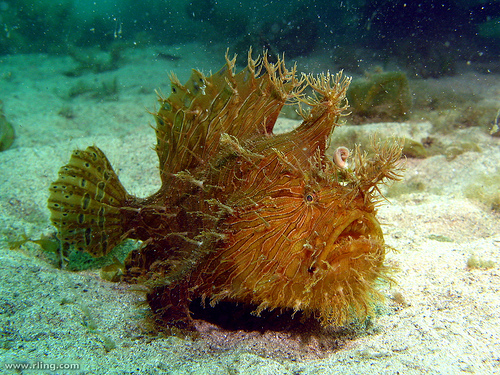 The Striped Anglerfish that grows up to 18-22 cm are abundant in tropical waters in particular the Indo-Pacific region. They can be found in shallow waters or at waters more than 200 meters in depth. Their colors vary from white, orange, yellow-brown, gray or black. To catch their prey, striped frogfish hide amongst sponges, stays motionless and if the prey comes closer to investigate the moving lure, it rapidly opens its large mouth and sucks in its prey.
Juvenile Painted Frogfish (Antennarius Pictus>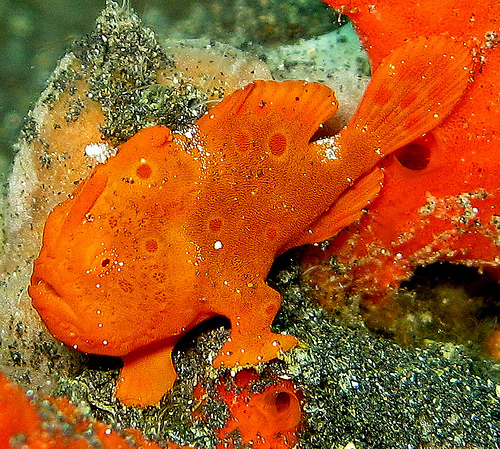 The Painted Anglerfish are found living in estuaries and throughout much of the tropical and temperate Indo-Pacific region. Their colors vary from yellow, red, orange, green, brown or yellow. One distinct mark painted frogfish has is its saddle-like markings dorsally. The pectoral fins sometimes have white tips, and the tail usually bears commonly three spots. This anglerfish can grow up to 16 cm in length.
Longlure frogfish (Antennarius Multiocellatus)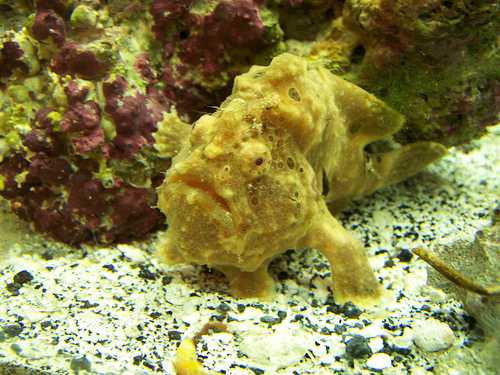 The Longlure Frogfish is a short, fat, round species and commonly grows up to 20 cm long. It has a thick skin covered with modified scales (dermal spicules). Most long lure frogfish coloration varies from bright red, dark green, pale yellow or reddish brown. It has a large mouth, small eyes, and pectoral fins that are situated on its stalks. One visible and peculiar mark of long lure frogfish is the black spots across the body. Longlure frogfish are found mostly in the tropical western part of the Atlantic ocean. It prefers shallow reefs.
Giant frogfish (Antennarius Commerson)
As the name implies, this is a large frogfish species that usually reach 35 cm in length. Its second dorsal spine is connected to its head by a thick membrane. They are commonly seen in the warm waters of the Indo-Pacific region. They inhabit coral reefs and in lagoons from a depth of 5 to 70 meters. Giant frogfish come in different colors such as; pink, yellow, red, green, orange, brown and black and most of the body has blotches of lighter or darker colors.
Ocellated frogfish (Antennarius Ocellatus)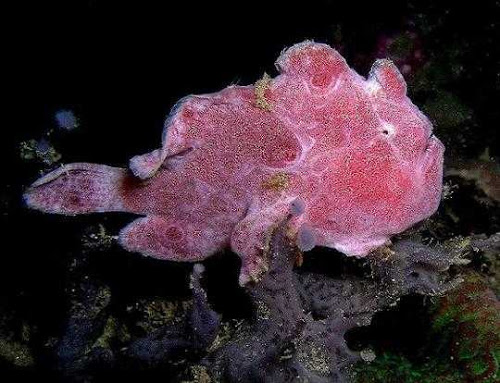 The Ocellated frogfish are found in the western Atlantic, Gulf of Mexico and the Caribbean Sea. They prefer rocky and coral reefs. The largest frogfish in the western Pacific, it can grow up to 38 cm long. They can be easily identified by the three prominent black spots on each side, each surrounded by lighter ring. They have large eyes, short and sphere-shaped bodies. Ocellated frogfish can have white, yellow, brown or black color pattern.
Psychedelic Frogfish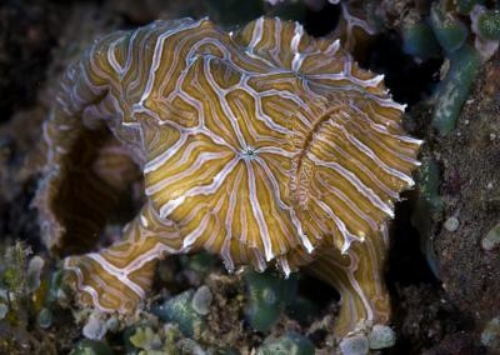 The Psychedelic frogfish is a newly discovered species found only in the waters near Ambon Island and Bali, Indonesia. It can easily be identified by its psychedelic pink and white stripes arranged in a fingerprint pattern covering its entire body. The skin surrounding the eyes is bright turquoise, and makes the eyes look slightly larger. Unlike other frogfishes, its color never changes. They can grow up to 9 cm long.
Hisbid Frogfish (Antennarius Hispidus)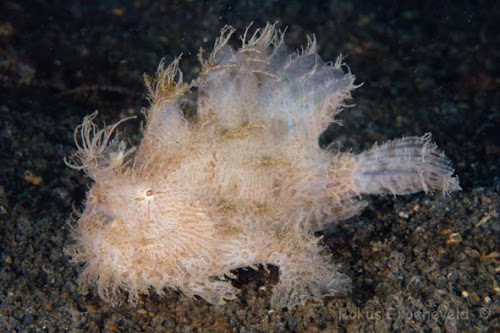 Hispid frogfish is a medium-sized frogfish measuring about 15-20 cm in length. The species have short skin filaments. They can come in different colors that include: white, yellow, brown, black – usually with dark stripes and radiating lines around the eyes.
Scarlet Frogfish (Antennarius Coccineus)
The Scarlet frogfish is found mostly in the waters of the Indo- Pacific region, particularly in Mexico and Panama.The species inhabit rocky bottoms. Their colors vary from brown to dark brown, yellow-brown, yellowish-white, white and pink. They can grow up to 13 cm long