Have it crossed your mind, why some birds have such wacky beaks and how they manage to eat? Read on to learn more about these birds with oddly-shaped beaks.
Bearded Barbet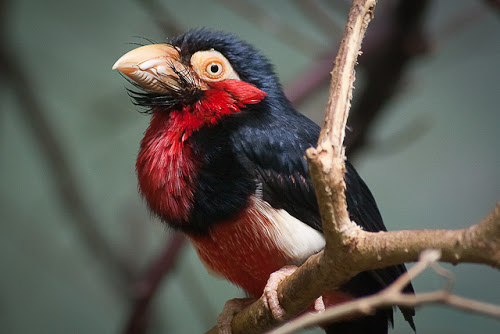 photo link
A member of the woodpecker family, the bearded barbet is a resident breeder in tropical west Africa. This African bird is about 26 cm in length and weighs between 80 to 110 g. It has large head, with a short neck, and a short tail. A remarkable feature of this bird is the tuft of bristles under its beak that gives it the beard-like appearance hence its name. Themassive bill is use to feed on insects and fruit, as well as to pound holes in dead trees.
Common Crossbill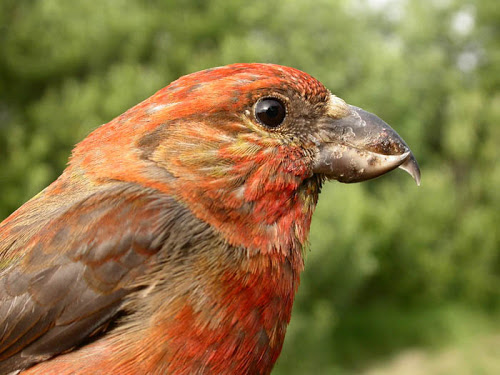 photo link
A member of the finch family, Common crossbill is a common resident breeder in the dapper forests of North America, Europe as well as Asia. It is a small passerine bird noted for its large head and bill that overlap each other or crossed like an "X". Nature intended it to be used in getting seed from tree cones. Take note that the bills of young ones are not crossed at hatching, but cross as they grow.
Rhinoceros Hornbill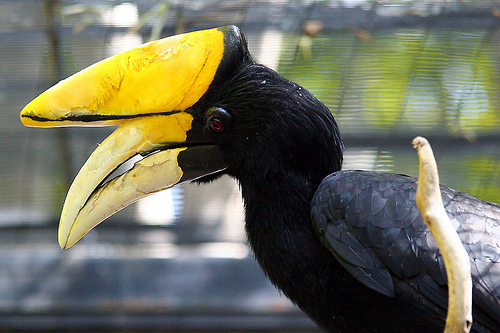 photo link
Inhabiting the rainforest of Southeast Asia, particularly in Sumatra, Borneo, and Java, rhinoceros hornbill is a large arboreal bird with long, heavy bills. A black bird with a white belly, adults can grow up between 110- 127 cm and can weigh up to three kg. Like most other hornbills, the male has orange or red eyes, and the female has whitish eyes. One of the distinctive characteristic of this bird is the presence of the "casque", a structure on top of the bill. Rhinoceros hornbills are born with white beak and casque, but as they grow older the beak takes a red-orange appearance. The beak is primarily use to knock down fruits.
Sword-billed Hummingbird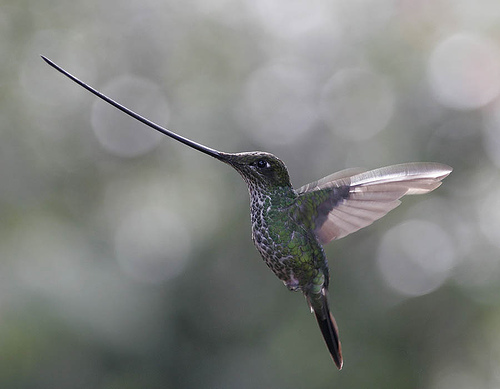 photo link
Sword-billed Hummingbird is a species of hummingbird found in Ecuador, Colombia, Bolivia, Peru and Venezuela. It is very aptly named, for it has a bill that is longer than its body. The bill can grow up to four inches long as compared to its body that is only about 15 cm long. The long, pointed, probing beak of the sword-billed hummingbird comes in handy in sipping the nectar on flowers with long corollas. However, since the Sword-billed Hummingbird"s beak is very long, it grooms itself with its feet.
Brown Pelican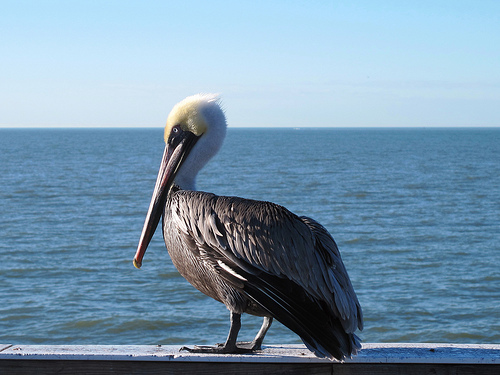 photo link
The smallest of the eight species of pelican, the brown pelican measures 106–137 cm in length, weighs from 2.75 to 5.5 kg, with a wingspan from 1.83 to 2.5 m. It lives in tropical east Africa in large swamps from Sudan to Zambia. Brown pelican is a large dark bird with a white head, a light brown crown, and a long pouched bill. The bill and the flexible lower pouch is use like a net. A known a plunge diver, it drops from the air with its wings partly folded and dives into the water to catch its prey. It scoops up fish and water, drains the water from its pouch, and tips back its head to swallow the fish.
Shoebill Stork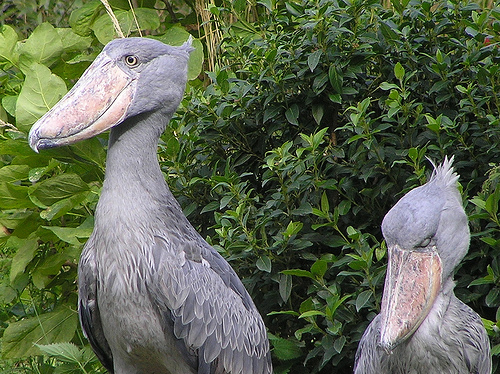 photo link
Shoebill stork is a large, grey, long-legged solitary African bird found inhabiting swamps. The shoebill measures about 110–140 cm tall. It has broad wings and with large, unwebbed feet. The spoon-bill owns a very specialized form of beak adapted for efficiently scooping prey from mud. It is flattened throughout its length, but ends in a broad, spoon-like expansion which it uses for scooping insects, worms, frogs, fish, mollusks, reptiles, and carrion out of the mud.
Spoonbill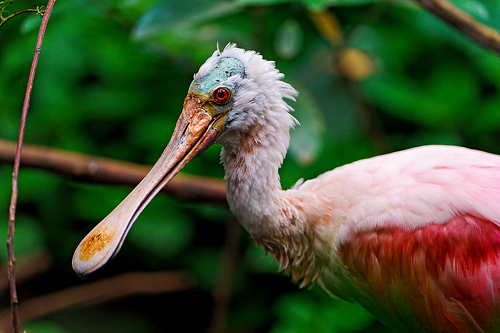 photo link
Spoonbills are medium-sized wading and terrestrial birds that live on forests, wetlands, grassland, arid or semi-arid areas of temperate and tropic regions. They have long neck and legs, a short tail and a long, straight bill. Most species are white, sometimes rose-tinged. Adult males grow between 48–110 cm in height and weighs 0.5–2.5 kg. Most species nest in trees, often with ibises or herons. A striking feature of spoonbills is its prominent, large, flat, and spatulate bills which allows them to feed by touch in murky water..
Toucan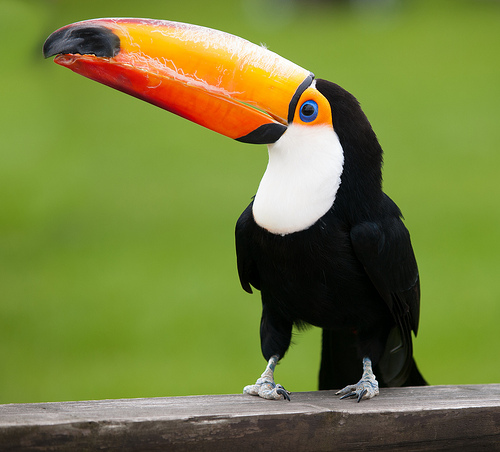 photo link
Toucans are passerine birds found in tropical and subtropical forests in South America. They are brightly marked and have large, colorful bills. Its oversized, colorful bill has made it one of the world"s most popular birds. The bill has serrated edges which help tear off pieces of larger fruits. The toucan"s large bill enables it to perch inside the crown of a tree, and to reach deep into tree holes to access food unavailable to other birds.
Wattled Curassow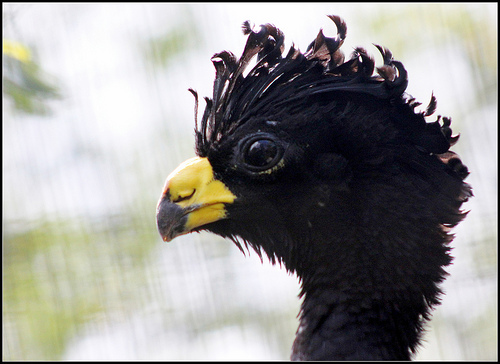 photo link
The Wattled Curassow is a large bird found in remote rainforests in the southwestern Amazon River basin. It is about 82–89 cm long, and weighs around 2,500 g. Their plumage is mostly black; legs, feet and bill are blackish. Its most prominent feature is a well-developed curly crest of head feathers. Males sport round bill knobs and elaborate wattles (think hood ornament) at the base of the bill.