A short description of some colorful jumping spider.
Salticidae: The Jumping Spiders
The jumping spiders include over 500 known genera and more than 5,000 species. Their sizes vary from 3-15 mm (1/8-5/8″) long. In fact, jumping spiders are lovely, with short legs and hairy bodies. They have eyes that are arranged in 3 rows; a large pair makes the first row that focus forward and a second, smaller pair outboard of those, also facing forward and slightly upward. Jumping spiders do not use their webs to catch its meal, but only for protecting eggs and at times an aid while moving about. Gifted with an excellent eyesight, jumping spiders are excellent hunters.
Bold Jumper (Phidippus audax)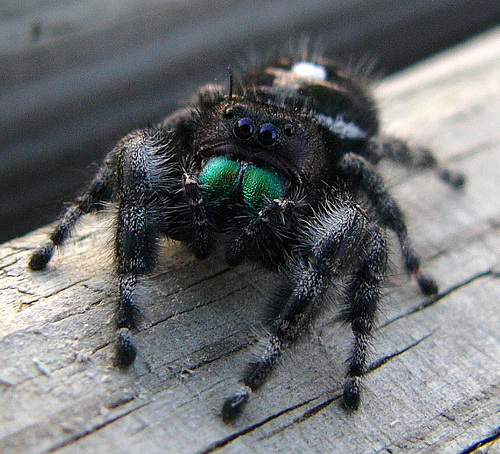 photo link
The most common genus of jumping spiders is Phidippus. A large, hairy and colorful species that can grow to an average of 10 mm. long though some species reach up to 15 mm in length. A common species in this genus is the Bold Jumper (Phidippus audax) a large black spider with white marking that are usually seen in gardens and around flowers.
Phidippus mystaceus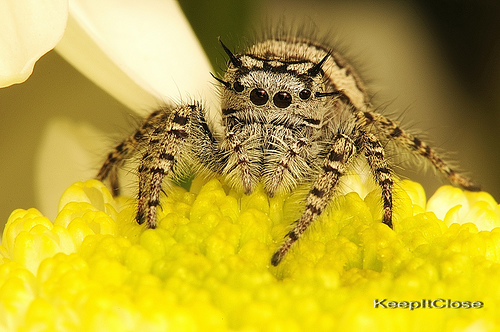 photo link
This jumping spider species are mostly found in North America. A distinguishable feature of Phidippus mystaceus is that females who can reach a body length of about one centimeter have 'moustache'.
Peppered Jumper (Pelegrina galathea)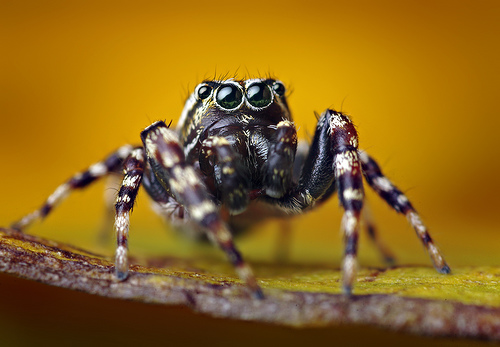 photo link
This small spider about 4 mm. in body length are often found on flowers. The males can be identified by the black and white complex pattern running in their bodies while females are gray in color and bear complicated markings.
Habronattus coecatus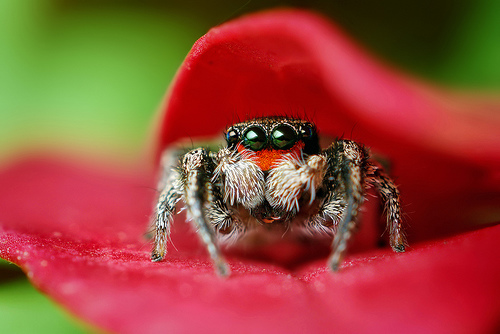 photo link
This very common jumping spider species are best identified by its stocky body and a longer third pair of legs that are often held close to the body. They can reach 4 mm. in length. The males sport a brighter color with clear black and white markings while females have three light colored marks and some blackish bands.
Phidippus putnami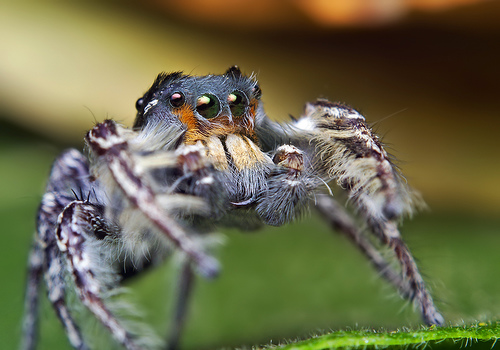 photo link
This species is found mostly in North America.
Evarcha albaria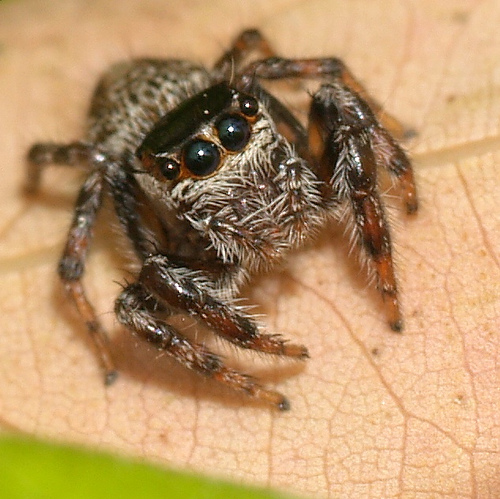 photo link
This species of jumping spiders who look muscular mostly come in brownish colors. They are mostly found in Asia, Africa and in some European countries. There are two species, namely: E. amabilis and E. hoyi that are only native in the U.S.A.
Phidippus otiosus
photo link
This species also called Canopy Jumping Spider is found mostly in Maryland, Tennessee, Texas and in Florida. They are tree-living jumping spiders that have a brownish carapace with white hairs along the side. It can grow up to 18 mm. in length.
Salticus scenicus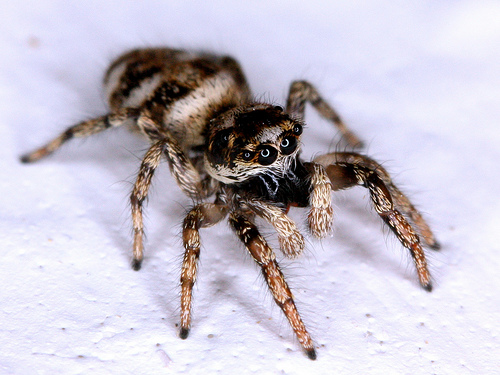 photo link
These tiny jumping spiders are usually found in human settlements living in walls, window sills, plants and even in fences. They can grow up to 7 mm. in length and their best identifiable mark are its two large front eyes and its blackish hairs that form stripes. Found mostly in Britain and in some parts of Europe, Zebra jumping spiders like to feed on mosquitoes and other smaller spiders.
Myrmarachne plataleoides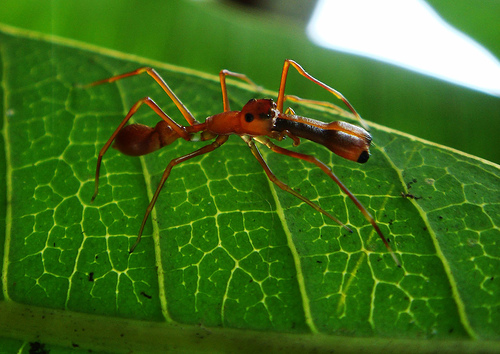 photo link
This jumping spider species that are found in China, Sri Lanka, India and in other Southeast Asian countries do mimic the weaver ant. They usually grow up to 12 mm. and primarily live in trees alongside weaver ants colonies.
Lyssomanes viridis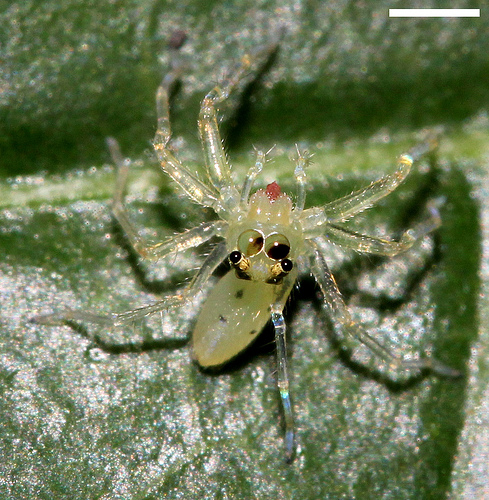 photo link
The Magnolia Green Jumper, as commonly called, is a cute spider usually sporting big forward-looking eyes and an animated green coloring with orange cap. With long legs, this jumping spider is an excellent hunter and can grow up to 8 mm. in length. Found in Florida, North Carolina and part of Texas, Magnolia Green Jumper inhibit in woodlands and bushes.
Phidippus regius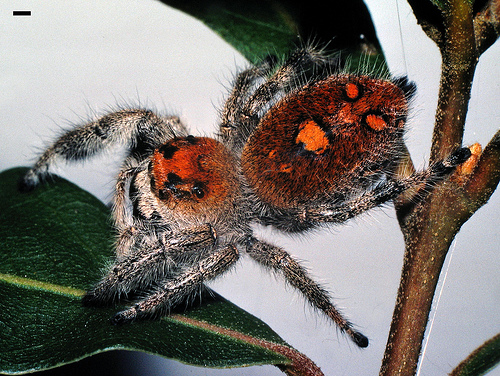 photo link
This species is commonly called the Regal Jumping spider, is the biggest North American jumping spider. Found in Florida and the southeastern United States, males can grow up to 18 mm. while females can reach 12 mm. in length. It dwells in open spaces that include: woodlands, fields and trees.