Don't be deceived by its stature – small as it is, male Darlington's Peacock Jumping Spider has a unique way of attracting females during mating time. The flamboyant male spider performs a very fancy and colorful mating dance! Read on to discover more about the species.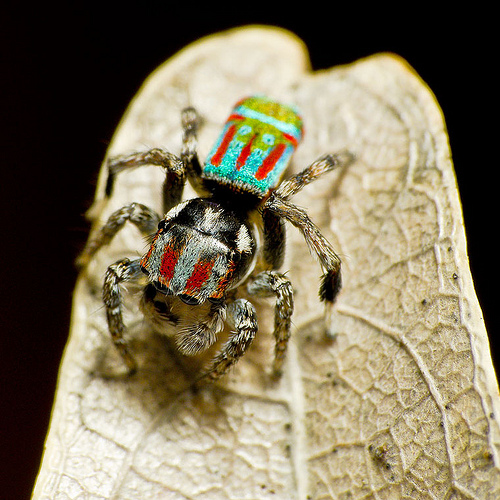 photo link
Australia is home to many species of jumping spider, most known for their vibrant colors. However, one species, the tiny Darlington's Peacock Jumping Spider (Maratus Volans) exhibit a strange mating ritual. The species is endemic only in the eastern parts of Australia (Queensland, New South Wales). Both sexes reach about 5 mm in body length. Males color ranges from iridescent red, blue, green, black among others. Females have drab coloring.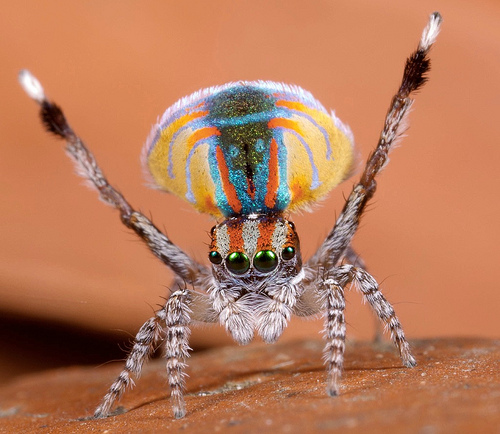 photo link
Like peacocks, males of this species spiders also have flap-like extensions around their abdomen which were first thought used to aid the spider in gliding. Further studies have revealed that the flap-like extensions, are used to attract the female whilst courting.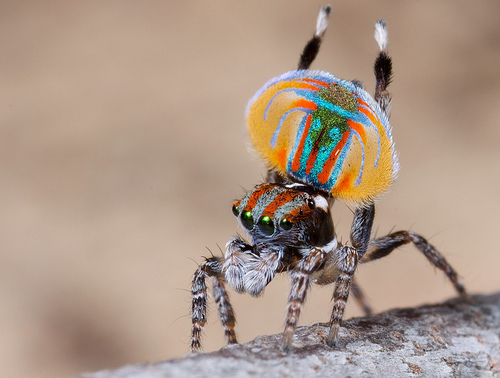 photo link
To catch the female's attention, the male spider does a fancy mating dance as he approaches the female. He then elevates his dazzling abdominal flaps (resembling that of a peacock raising his dazzling feathers) showing off a circular field of color including blue, green, orange and yellow. Simultaneously, the male waves a third pair of legs, showing a brush of black hairs and white-tipped ends.
photo link
After mating the male repeats this amazing dance many times with different females. Watch the video below and marvel at how dazzling this mating performance is.