The parrot is a lovely companion for both the young and old. It could turn out to be an excellent pet given the proper training and attention.
African Gray Parrot
photo link
Our first parrot in this group is the African gray parrot, known to be such talented talking parrots. There are two subspecies of African Congo Gray Parrots namely: the Congo African Gray Parrot and the Timneh African Gray parrot. Congo African parrot grows to about 12 in long with black beak, light gray plumage and dark red tail. While the Timneh subspecies is much smaller with a darker plumage and a darker maroon tail.
This parrot is capable of mimicking not only human words but have been documented imitating other manner of sounds, including the ability to whistle, squeak, click, shriek, etc; African gray parrot is also known for its feather plucking activity. Boredom, stress and improper diet may have something to do with this abnormal activity. Studies show that the intelligence level of African gray parrot equals that of a five-year old child.
African Gray Parrot can be an excellent pet because of its sociability and intelligence. However, prospective owners need to spend more time with the bird so as establish solid bonding. A good way to build up and gain your pet's trust is to fly the parrot on your fingers and take it for a stroll around the house. The life expectancy of African gray parrot is about 40 to 60 years. But bear in mind, having an African Gray (or any parrot) as pet requires a lifelong commitment.
Amazon Parrot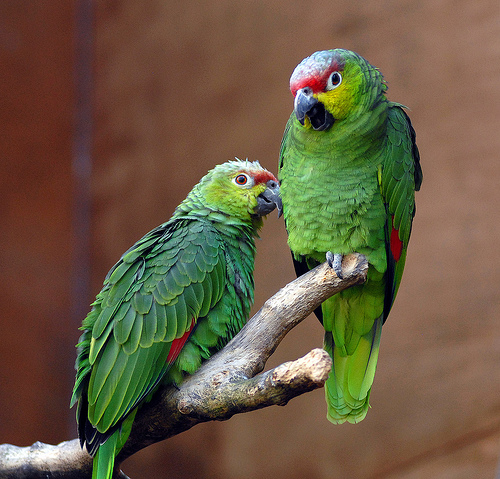 photo link
There are 27 extant species of Amazon parrot, found in South America, Caribbean and parts of Mexico. It can easily be recognized by its short wings and green plumage. Amazon parrots grow to about 36 cm and its common diet include fruits, nuts, and seeds.
Amazon parrots are good at imitating human speech and mimicking and other sounds. Some species like the yellow nape, double yellow heads, and blue fronts are good talkers and can also be good singers. They are popular as pets since they are loyal, sociable, energetic and playful. However, Amazon parrots are not for neophyte owners since they demand more attention than other house pets.
They need lots of interaction with its owners and at times flash moody characters. Amazon parrots are challenging pets for often they are aggressive, stubborn, quiet, jealous, silly, playful, or irritable. Owning one is just like owning a winged-dog. Studies also show that Amazon parrots have the intelligence of a three-year old child plus the temperament of a 50-year old adult.
Eclectus Parrots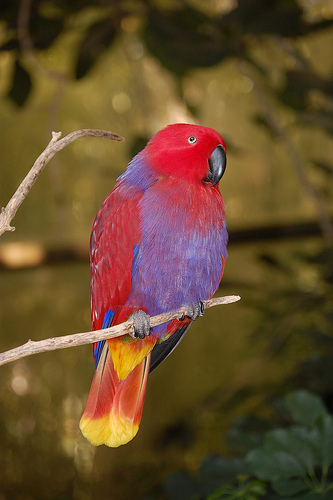 photo link
Eclectus parrots are brilliant and sleek birds, native to northern Australia, the Solomon Islands, New Guinea and neighboring islands. There are two popular subspecies namely: the Vosmaeri that are larger with elegant look and the "cute" looking Solomon Island variety that are smaller in sizes. Eclestus parrots are known for their brilliant color where males have green feathers with green primaries, while females sport bright red or purple/blue plumage.
In the wild, Electus parrots diet includes unripe nuts, fruits, flowers and seeds. While in captivity, they feed mostly on fruits such as; figs, guavas, mangoes, melons, bananas, grapes, apples, pears and other citrus fruits. These amazing birds are sought after as pets. When trained properly at a very early age, they have the ability to develop a cognitive behavior. They are very animated and enjoy taking part in daily activities.
Quaker Parrots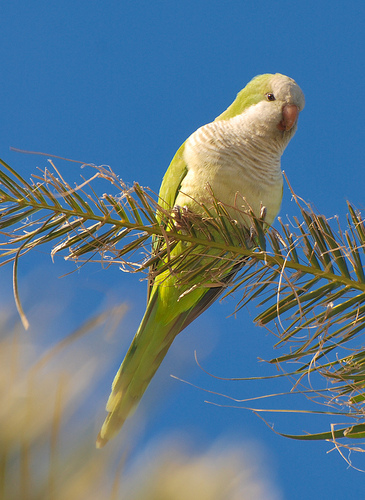 photo link
Quaker parrots, also known as monk parakeet are native to South America and widespread in Brazil and Argentina. Mostly, they have green plumage with shades of blue in its flight feathers and tail's tip. They are medium-sized, weigh from 80 to 150 grams and grow up to a foot from beak to tail. Quaker parrots can live up to 20 years or more.
Quakers are confident, energetic and very sociable birds. They suit well as pets for these birds are very loyal, gentle, charming, playful and are capable to imitate human speech. Quakers are known to be extremely good eaters and feed on fresh vegetables and fruits.
Senegal Parrots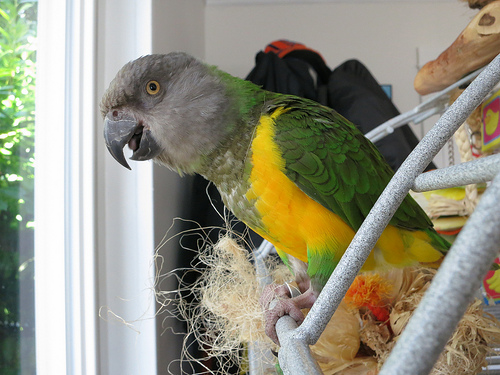 photo link
The Senegal Parrot is found in West Africa, Gambia and Guinea. It is about 23 in long from beak to tail and weigh from 125 to 175 gm. Senegal Parrot can easily be distinguished by its large head and beak and a short tail. Its staple diet includes fruit, seed and flowers. Adults have gray head and beak and shiny yellow iris
Senegal parrots can make excellent pets and are quieter than other parrot species. These cute birds can easily imitate human speech and other audible and clear sounds. They do mimic, but are more adept at sounds than clear speech. A good apartment pet, Senegal parrots are very affectionate, charming, comical, entertaining, highly trainable and bond easily with their owners.
Those interested in owning a Senegal Parrot should be willing to make time for handling and socialization with the bird every day. The more you interact the more a Senegal parrot will relax and obey you.