They may not be the most colorful birds around. But these fascinating birds sure have spectacular tails. Check them out.
Lady Amherst's Pheasant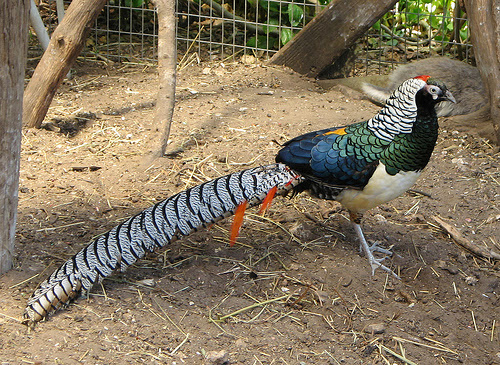 photo link
The Lady Amherst's Pheasant (Chrysolophus amherstiae) is a ruffed pheasant endemic to China, Myanmar, and Tibet. These birds prefer dense, dark forests as natural habitat. They roost in trees at night, but search for food on the ground — feeding mostly on grain, leaves and small invertebrates. The species are listed is as Least Concern on the IUCN Red List of Threatened Species.
Females are less showy and carry a duller overall plumage, but males have striking silver with black barring tails. Males have black head, short metallic green crown, crimson crest and black throat with metallic green spots. Overall body plumage is metallic bluish green. Adult male measures around 100-120 cm in length, with a 80 cm long tail and weigh about 740 g.
Ribbon-tailed Astrapia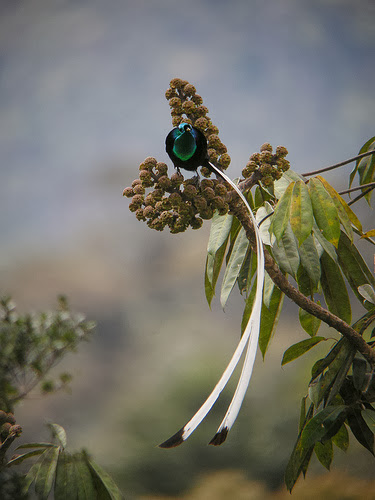 photo link
The Ribbon-tailed Astrapia (Astrapia mayeri) is a medium-sized, velvet black Bird-of-Paradise endemic to sub-alpine forests in central Papua New Guinea. The species feeds on insects and fruits. Also known as Shaw Mayer's Astrapia, this spectacular bird is listed as Near Threatened on the IUCN Red List of Threatened Species.
As with all Birds-of-Paradise, the males are more colorful than females. Males have shiny black bodies, and sport shining green, bronze and blue feathers around their heads. Males have jet black heads and dark green tuft sits at the top of the beak. They can reach 32 to 35 centimeters (12.6 to 13.8 inches) long, but can grow up to a meter long ribbon-like white tail feathers!
Raggiana Bird-of-Paradise
photo link
The Raggiana Bird-of-paradise (Paradisaea raggiana), also called Count Raggi's Bird-of-paradise, is the national bird of Papua New Guinea. The species inhabit the tropical forests of eastern New Guinea. A colorful bird has red to orange plumes and a very spectacular pair of long black tail wires. The male has dark emerald-green throat, yellow crown, greyish-blue bill, and yellow collar. It has blackish upper breast feathers. and greyish-brown feet. Adults measure about 34 cm long. It feeds mainly on fruits and arthropods. The Raggiana Bird-of-paradise is listed as Least Concern on the IUCN Red List of Threatened Species.
Wilson's Bird-of-paradise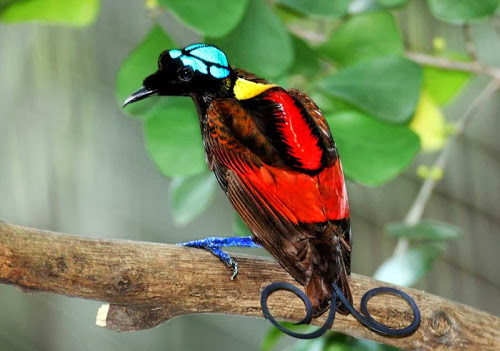 The Wilson's Bird-of-paradise (Cicinnurus respublica) is a colorful passerine bird native only to Waigeo and Batanta islands in Indonesia. The species inhabit forested hill areas and lowland rainforests where they feed on fruits and small insects. Adult male grows to about 16 cm long and weighs between 53 – 67 g. It is easily distinguished by its red and black feathers and a spectacular two curved violet tail feather.
Also, the male has a naked blue head, brilliant turquoise crown, yellow cape, light green mouth, and velvet green breast. The Wilson's Bird-of-paradise is Classified as Near Threatened (NT) on the IUCN Red List.
Exclamatory Paradise Whydah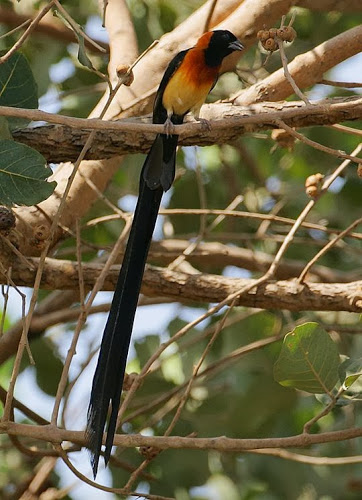 photo link
The Exclamatory Paradise Whydah (Vidua paradisaea) or the Long-tailed Paradise Whydah, is a small brown sparrow-like bird endemic to native to Eastern Africa. This colorful bird is known for its spectacular elongated black tail feathers, which can grow up to 36 cm long. During mating season, male sports rusty brown breast, black head and back with dazzling yellow nape, and white belly plumes. The Exclamatory Paradise Whydah is listed as Least Concern on the IUCN Red List of Threatened Species.
Blue-crowned Motmot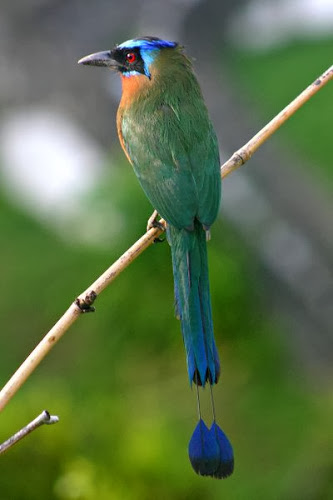 photo link
The Blue-crowned Motmot (Momotus momota) is another colorful bird species widespread in woodlands and rainforests of Mexico, Central America, and most of South America. All species except the blue-crowned subspecies have a black crown laced with blue band. A blue-crowned Motmot has a large head, black face, red eyes, black eye mask, and short, down curved beak. Overall, it has shades of green and blue feathers. This passerine bird is also known for its distinctive "racquet" tail with spectacular greenish blue center tail feathers. Depending on the species, the Blue-crowned Motmot measures around 38–48 cm (15–19 in) long.
Golden Pheasant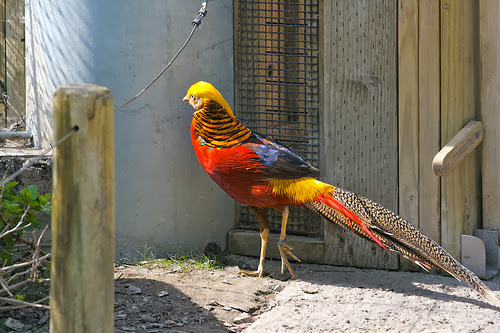 photo link
The Golden Pheasant (Chrysolophus pictus) also called "Chinese Pheasant" is a gorgeous pheasant species endemic to the mountains of Central China. The Golden Pheasant is commonly found in zoos and aviaries. Both sexes have golden-yellow legs and yellow bills. However, males are easily recognized by their red body, scarlet breast, golden crest and rump. Females have duller mottled brown plumage.
An adult male can measure between 90–105 cm long, with a tail about for two-thirds its total length. One of the worlds brightest birds, the Golden Pheasant feeds mainly on berries, seeds and leaves. The average lifespan of Golden Pheasants can live up to 6 years in the wild, but those in captivity could live 15 or even 20 years.
Scarlet Macaw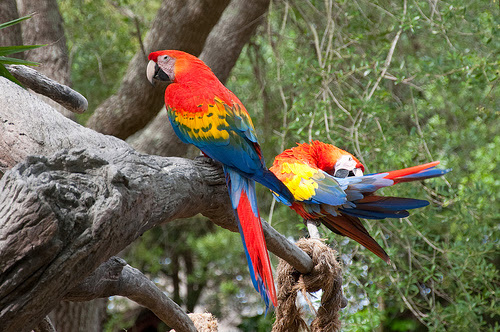 photo link
The Scarlet Macaw (Ara macao) is a large, colorful South American parrot endemic to evergreen forests of South America. Two subspecies of scarlet macaw are recognized: Ara Macao, Macao, and Ara Macao cyanoptera. These beautifully colored birds is about 90 cm (35 inches) long and weigh about 1 kilogram (2.2 lb). Overall the species have bright scarlet-red feathers with patches of blue, green and yellow. The long tail has vibrant red plumage. It has a creamy white, almost featherless face and a strong, curved beak. The Scarlet Macaws' diet includes fruit, nuts, and seed. Scarlet Macaws mate for life and has a lifespan of 40 to 50 years.
Resplendent Quetzal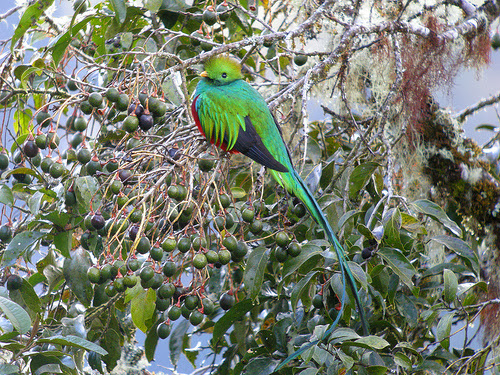 photo link
The Resplendent Quetzal (Pharomachrus mocinno) is another vibrantly colored bird found in Montane cloud forests from southern Mexico to western Panama. There are two subspecies, P. m. mocinno and P. m. costaricensis. The iridescent color of its plumage appears green or blue, according to the changes of daytime light. The male owns g eyes, a helmet-like crest and yellow bill. During mating season, males showcase their long, glossy emerald-green tail feathers that could reach a meter (three feet ) long. This species measures 36–40 cm (14–16 in) long and weighs about 210 g (7 oz).
Indian Peafowl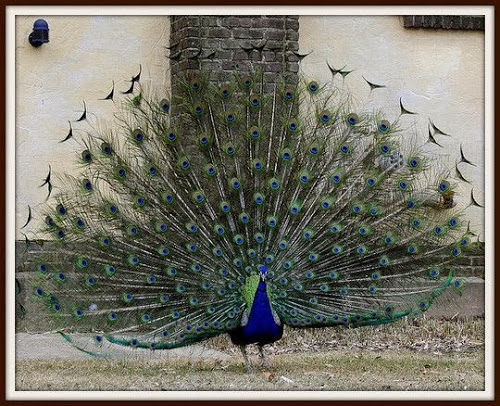 photo link
The Indian Peafowl (Pavo cristatus), also known as Blue Peafowl is a large pheasant endemic to South Asia. The species is mostly found on the ground in open forest and woodlands. Males have mostly blue plumage with blue head, neck and breast. Also, males have dark brown tails with wire-like feathers where the "train" feathers end with an elaborate blue-green eye-spot. Adult males measure 195 to 225 cm (78 to 90 inches) from beak to tail and weigh 4–6 kg (8.8-13.2 lbs). The species feeds mainly on grains and berries, but at times prey on small rodents, lizards and snakes.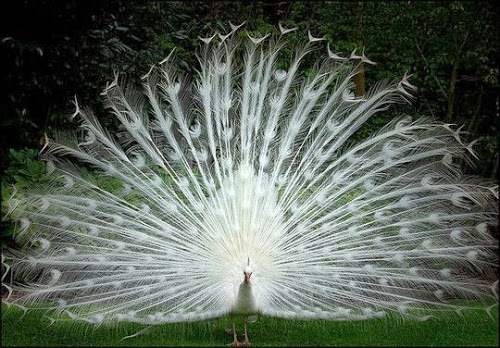 photo link