A compilation of seven unique animals that are seldom mentioned, and always outshone by their more famous, closest relatives. Have fun knowing them.
Okapi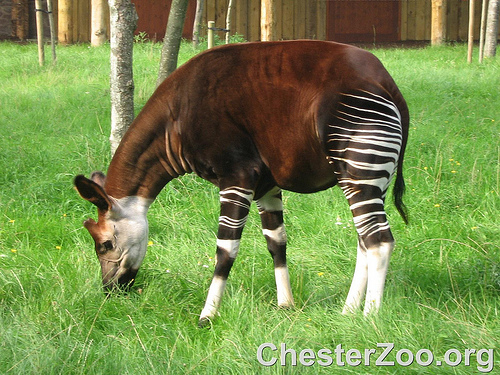 photo link
The Okapi (Okapia johnstoni) is an unusual animal living at high altitudes in the rainforests of Congo, in central Africa. It was only discovered by scientists in 1901. With white-and-black stripes on its legs, it was first thought to be some kinds of a rainforest zebra or a forest-dwelling house. However, the okapi is not related to a zebra, but guess what – it is the only living relative of the giraffe!
/>
Just like the giraffe, the okapi has big, upright ears, and a long dark tongue that comes in handy in grooming and stripping fruits, branches, buds and young leaves from trees. It has chocolate-brown body coat with tan-colored chest. Though shorter than a giraffe, adults stand up to 1.5 m tall at the shoulder, a body length of about 2.5 m and weigh between 200 to 300 kilograms (440 to 660 lbs). Adult males own hair-covered horns that could grow up to 15 cm long. Females are slighter taller than males and have lighter body color. Okapis have a life span of about 20 to 30 years.
Pygmy Hippopotamus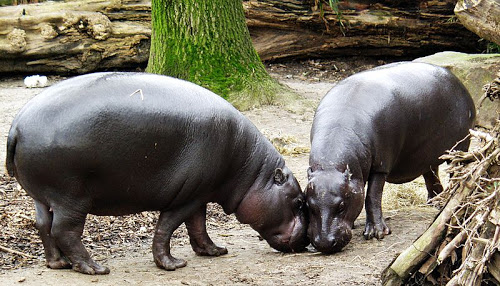 photo link
I guess many of us know about the large and muscular hippopotamus, but do you know that it has a less popular but unique relative? Yes, and it is the Pygmy hippopotamus! It is a "never-heard" animal until the early part of the 19th century. A copycat of the much larger hippo, the Pygmy hippopotamus (Choeropsis liberiensis) lives in swampy forests of Western Africa.
In physical stature, pygmy hippo resembles its larger relative, the Nile Hippopotamus. Though half the size as compared to its relative, adult on average stand 75-83 cm at the shoulder, between 150-177 cm in body length and weigh between 180-275 kg. Unlike Nile hippopotamus, pygmy hippo has smaller pig-liked head and its eyes are situated more to the sides. It has short tail with branched hairs. The skin is smooth resembling that of a common hippo; having a brown or greenish black coat and pinkish cheeks.
Aardwolf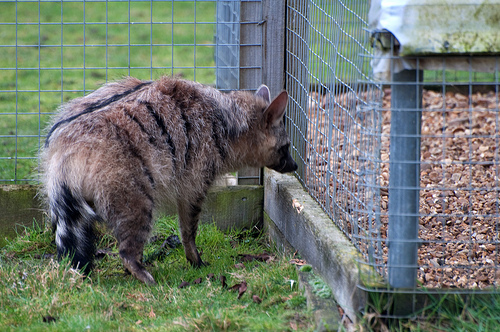 photo link
What do "laughing" hyena and aardwolf have in common? They both belong to the Hyenidae family, the former being one of the popular ones while the latter is considered the least known member. The Aardwolf (Proteles cristata) is a small, shy and nocturnal animal found in eastern and southern Africa. The aardwolf resembles the Striped hyena, but is much smaller with big, pointed nose and more slender muzzle. Its yellowish fur is marked with black stripes and with a distinctive mane around its neck.
On average, Aardwolf measures around 55–80 cm long, stands between 40–50 cm at the shoulder, and weighs up to 14 kg. It also has a long tail growing to 30 cm at the most. Its cheek teeth are very similar to the hyena, but are mainly used for eating insects.
Aardwolves live in bush land, dry plains, but are primarily sleeping in burrows during the day. By dusk, they emerge from the burrows to search for termites… their main food source. Would you believe that in a single night this unusual animal can consume about 200,000 termites with the aid of its long and sticky tongue!
Drill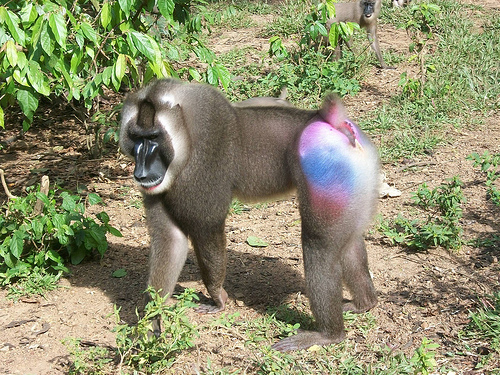 photo link
Mandrills are one of the main attractions of modern day zoos; but have you heard about its closest relative, the drill? These two monkeys are so similar in appearance with one main difference… a mandrill carries a more colorful face while a drill has a black face and a red chin to show. One of Africa's most endangered animals, drills are found only in three countries: Nigeria, South Western Cameroon and Equatorial Guinea.
Drills (Mandrillus leucophaeus) are social animals, where one dominant male leads a group of about 20 females. Also, the leader acts as the father to all the young. Interacting with other groups is a normal way of life to drills. Male drills are three times heavier than females weighing up to 45 kg. At about three years old, female drills reach sexual maturity, but can only have one offspring every six years. Drill's average life span is 28-30 years. Drills are omnivorous that feeds on grass, roots, and fruits, to small animals.
Silky Anteater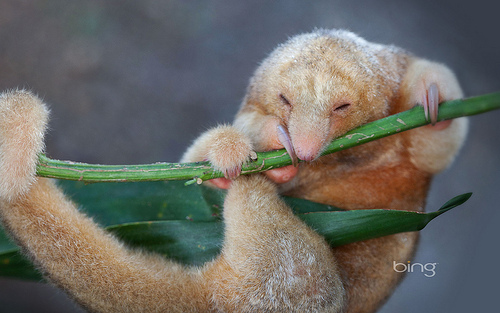 photo link
The Giant Anteater is rather well known, but its relative the Silky anteater (Cyclopes didactylus), is almost never heard of. The smallest anteater in the world, silky anteater lives in the tropical forests of southern Mexico, Bolivia and parts of Brazil. It is a solitary, slow moving tree-dwelling nocturnal animal that is seldom seen. It sleeps during the day curled up in a ball, and emerges during the night to search for ants and other insects. Using its long sticky tongue, silky anteater can consume up to 8000 ants in a night.
The Silky Anteater normally measures between 36 and 45 centimeters and weighs less than 400 g. It has a soft and silky golden brown fur. Also, silky anteater has short stout, two big curved claws in each forepaw, and a prehensile tail. Females give birth to a single young where both parents care for the offspring.
Hyrax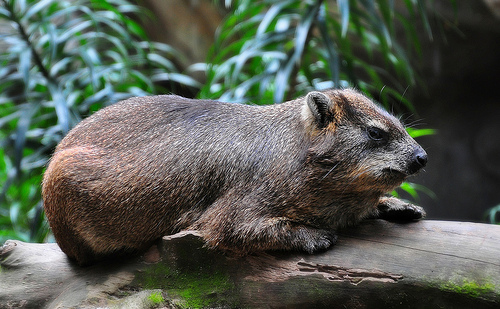 photo link
Looking at the picture above, I bet you will be misled that a Hyrax is a rodent-type animal. But do you know that the nearest relative of this unique creature is the elephant! Both elephants and hyraxes share some anatomical and physiological features. Both live in arid lands, feed on plants, rubbery toe pads and tusks.
There are four extant species of Hyrax namely: The Rock Hyrax, the Yellow-spotted Rock Hyrax, the Western Tree Hyrax, and the Southern Tree Hyrax. Hyraxes are found in Africa and the Middle East. They are furry animals with short tails. Hyrax averages between 30–70 cm long and weighs between 2–5 kg. They live in small family groups where a dominant male leads the group. Hyrax diet includes: fruits, leaves, insects and birds' eggs Females give birth to up to four young.
Crab-eating Racoon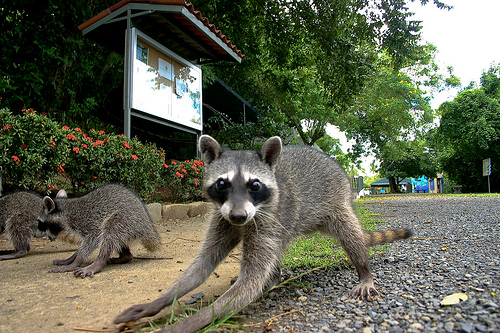 photo link
Many are familiar with the infamous common raccoon, but have you heard about the Crab-eating raccoon (Procyon cancrivorus), its close but seldom mentioned relative. Found in South and Central America, crab-eating raccoons live near bodies of water such as streams, lakes and rivers searching for crabs, frogs, fish, shellfish and other freshwater animals.
An average crab-eating raccoon grows between 41 to 60 cm in body length and weighs between 2 to 12 kg. Just like its cousin the Common Raccoon, it has short, rounded ears; a bushy tail and small eyes mark with the popular "bandit's mask" black eye patches. But unlike its relative, crab-eating raccoon has thinner fur and spends most its time in water (semi-aquatic).