Interesting facts about the dog breed Basset hound – the famous Hush Puppies.
Dear dog lover,
I've heard in the dog community news that you are planning to acquire a dog that suits your need. I believe I am the type of dog you are looking for. Here is my personal profile for you to look into. As a teaser, do you know that my cousin Jason was featured in an advertising. His photo was chosen as the logo for Hush Puppies brand shoes. And BTW, my ancestors are from France, and the name Basset is French for "low". From the hound family, we are bred to hunt rabbits using our excellent sense of smell.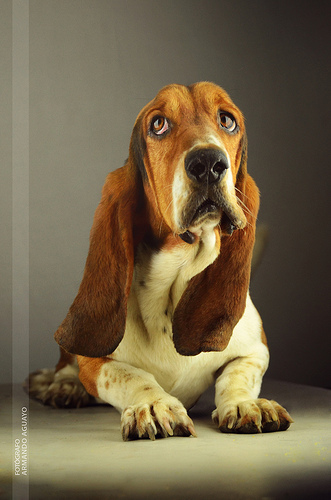 photo link
The Basset Hound is a relatively heavy dog with short legs. Males average 30-38 cm at the withers and about 23-29 kg, while bitches measure 28-36 cm and about 20-27 kg.
Bassets usually come in tri-color – (black, tan, and white), some are Red & whites, others are lemon & whites, and the rare 'blue' bassets.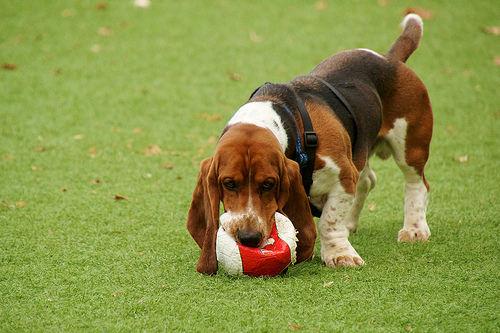 photo link
Basset hounds sport smooth, short-haired cats (though a carry rough-haired coats). They have large heads, long, droopy ears, sad-looking brown eyes, long muzzles, large teeth and loose skin. They have powerful necks, deep chest, big claws, and long tail with white tips.
photo link
Basset hounds are affectionate, loyal and loves socializing in the company of others. They are sweet, gentle, clownish, peaceful, and reliably good-natured. However, they are not that easy to train – at times they are stubborn, lazy and slow to obey. Yet, they respond to consistent obedience training plus the food rewards.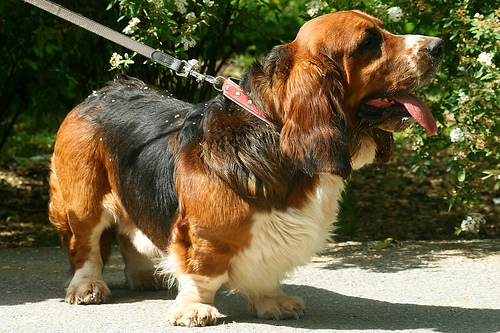 photo link
Having bulky stature with short legs, Basset hounds, need regular exercise to make them fit. Be sure to have your dog on a leash, when you take it outdoors. A pure hunting hound, it will go for a chase if ever it detects interesting scents.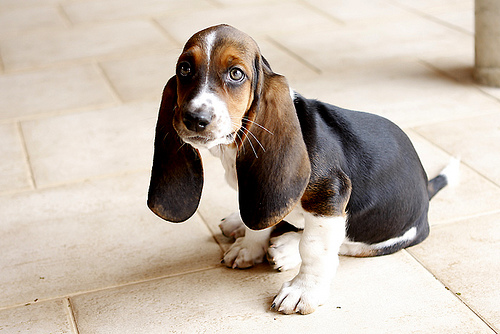 photo link
Don't be deceived by Bassets look! Short as they are, they are expert in reaching objects or food on table tops. However, taking them for a long swim is not advisable. Why? With their bulky build and short legs, they cannot hold themselves above water for too long.
photo link
Having very long ears, Basset hounds are prone to certain ear diseases. They, too, may encounter eye issues (primarily a mucus problem) owing to their droopy eyes, where the area below the eyeball collecting much dirt. Also, due to their wrinkled face, the area around the mouth is susceptible to yeast infection. Also, be aware that Bassets shed a lot.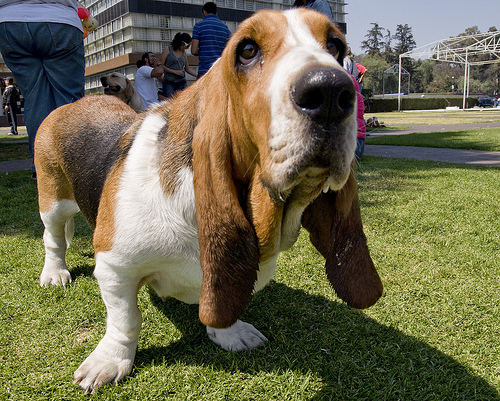 photo link
Basset Hounds are also prone to yeast infections in the folds around the mouth, where drool can collect without thoroughly drying out. Wiping the area with a clean, dry towel and applying talcum powder can minimize this risk.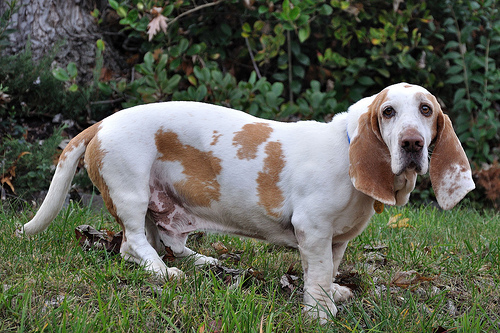 photo link
Again, owing to its (short stubby legs, low to the ground) body stature, don't let Bassets jump at a point to0 high off the ground – they are at high risk of breaking a leg, injuring the spine, or dislocating the hips. Keep in mind, not to overfeed them because additional weight can take its toll on the legs and spine. Considered a lazy dog type, they can go overweight if allowed to.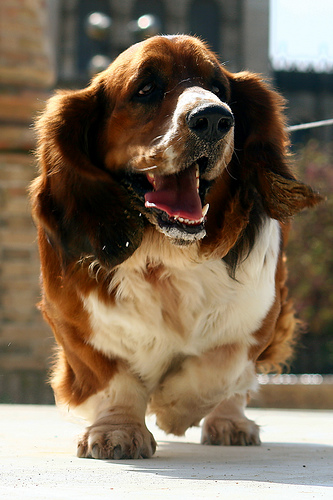 photo link
They suit well in an apartment or at home without a yard, provided they be given time to play to keep them fit and trim. Grooming is not a problem, comb and brush will do for its smooth, short-haired coat. Adults on a daily average consume 2 – 4 cups of food. Basset hounds can live to about 10-12 years.