Even with birds, "Practice makes perfect." Learn and marvel how the Southern Masked Weaver, considered by scientists as the most skilled nest builder, do the trick!
Nature dictates that birds built nests as temporary refuge for eggs and young chicks. Many species just simply make one to meet this need. However, there is a bird species that build their nests in a highly-designed ones. Read on and marvel how the Southern mask-weaver built nests.
Southern Masked-Weaver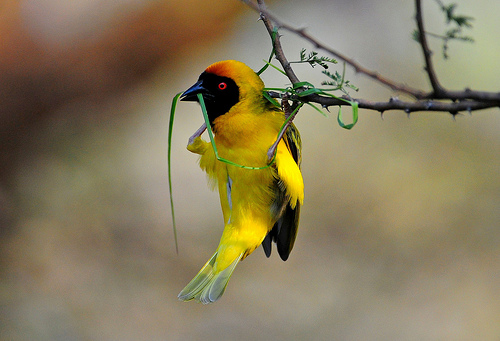 The Southern Masked Weaver or African Masked Weaver (Ploceus velatus) is a species of bird that belongs to the family Ploceidae. This fascinating bird is widespread throughout southern Africa inhabiting open woodland, grassland, savannas, inland wetlands. It also frequents urban gardens as well as parks.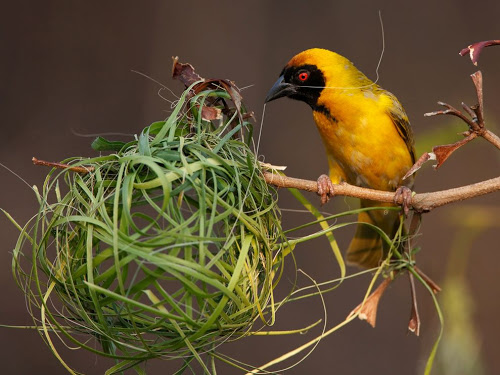 The Southern Masked-Weaver measures about 11-14.5 cm (4.3 – 5.7 inches) long and weighs around 37 grams. It has an orange eyes, short, conical bill, black colored throat, and pinkish brown legs. The male plumage and colors are slightly different to that of the female bird. Adult breeding males sport red eyes; bright yellow head; black face, throat and beak; and a plain yellowish-green back while adult females have brown eyes, pinkish-brown bill, brown eyes, yellowish throat, and grayish belly.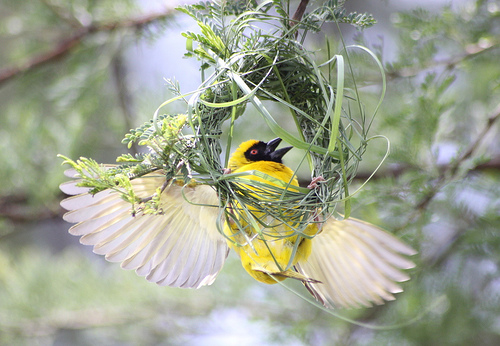 The Southern Masked Weaver is normally seen singly, or pairs, or in flocks. Just like other weavers, this fascinating bird creates harsh buzzes and chattering calls. It also makes a sharp alarm note. It forages for food on the ground, feeding mostly on insects including ants, bees, butterflies, and locusts. It also eats seeds and nectar.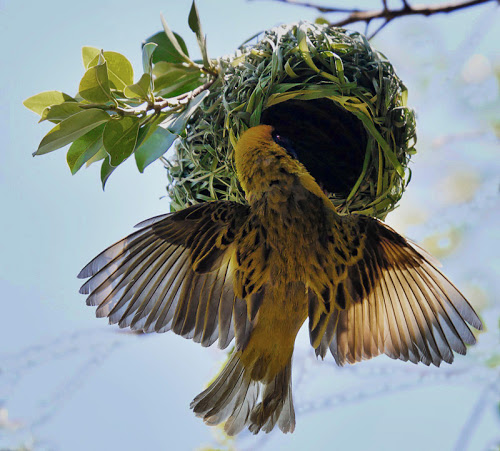 The breeding season usually stretches from September through January. Males are bigamous and will have up to 5 females per breeding season. These breeding males will create a succession of nests, usually numbering 25 nests per season. The male builds its nest high up in the tree canopy or on the ground woven from figs, straw and leaves. The female will adorn the interior of a chosen nest with soft grass and feathers while the male put on the entrance tunnel.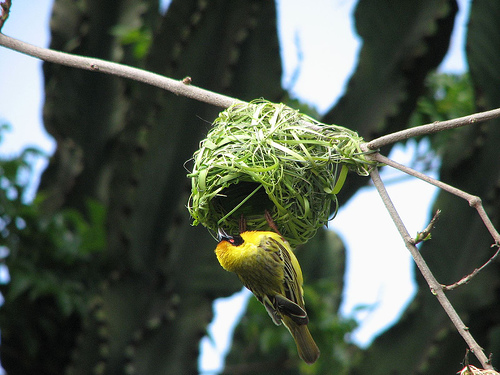 A female bird will lay between 1-6 blue-colored eggs, which she will single-handedly incubate for about 12-14 days. Chicks will content themselves on a diet of soft insect larvae and grasshoppers. For about 16-17 days, chicks will stay on the nest and will leave afterwards.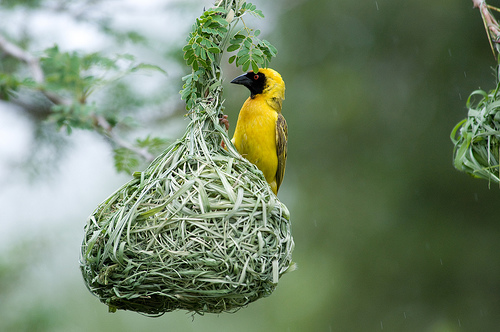 How do a breeding male makes the nest? From grass leaves, green strips of reeds, or palm blades, he will diligently weaves a well-designed nest. On average, it will take about 9 to 14 hours to complete one. Once completed, an imposing large entrance tunnel graced a kidney-shaped structure. So creative are these birds, that the nests rest on thin branches of freestanding trees, often over water to discourage predators.
Why do the Southern Masked Weaver birds is considered the most skilled nest builder? If we hold to long-established fact that nest-building is something that birds know how to do from birth, then we would expect all birds to build their nests in the same way each time. But not in the case of the Southern Masked Weaver! Based on studies done in Edinburgh, Glasgow and St Andrews Universities and has been published in the Behavioral Processes journal, scientists say that these fascinating birds use experience to build better nests. The research noted that they displayed strong variations in their nest building, showing a skill they actually 'learn' and get better at. Experience takes a clear role in building highly complex nests. 'Even for birds, practice makes perfect.'