Gluttony is frowned upon in the human world. Is it the same for animals?
With the current influx of information campaigns against the danger of obesity, many are now aware and started to be conscious of their health. But how about the gluttons in the animal world? Sad to say, its just a way of life for these "eating machines".
Tiger Shark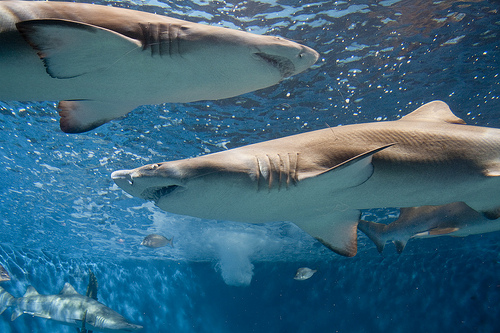 Tiger sharks are aggressive night hunter, they patrol the ocean devouring whatever come their way. Gifted with excellent eyesight, a sharp sense of smell and sickle-shaped teeth, tiger sharks usually prey on: fishes, squid, dolphins, sea turtles, seals, other sharks, sea turtles, seabirds, mollusks, and other sharks.
But did you know that tiger sharks are scavengers and are often called "the garbage can of the sea". Why? Documented facts revealed that various kinds of foreign objects are found in their stomach, including old tires, license plates, tires, gasoline cans, shoes and baseballs. However, tiger shark's nasty eating habit help keep the ocean clean.
Pig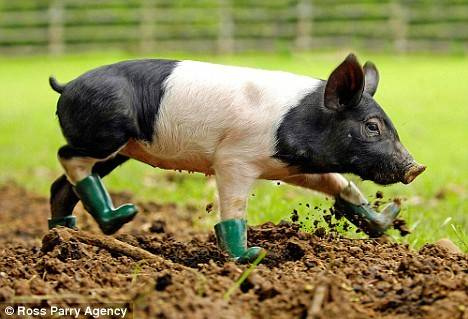 This list will be incomplete if we will exclude the domestic pig. Pigs are known gluttonous omnivores, meaning they are plant and meat eaters. A greedy scavengers, pigs eat anything from plants, tree barks leaves, flowers, fruits, dead insects, rotting carcasses, garbage and even their young ones when kept in captivity. However, one awful thing pigs do… they love to sleep in its own excrement. Could you take that!
Vulture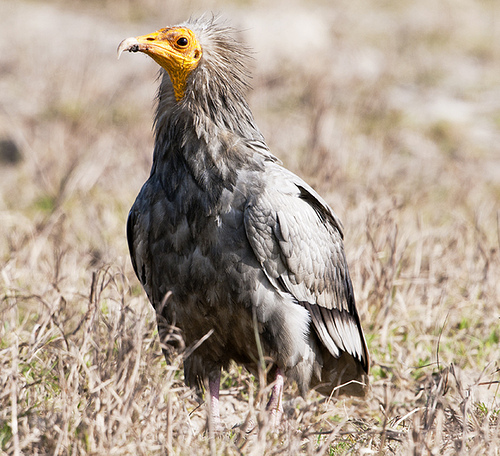 This bald-headed bird of prey is the ultimate carnivore. Vultures are picky eaters, they will settle for nothing less– and only eat meat whether it"s fresh or rotten. These birds tend to pounce in and gobble as much as they can. Normally, vultures will overeat themselves until their digestive cavities bulges. They can eat as much as 25% more than their body weight. Vultures usually seek its prey by smell though they have an excellent eye vision. Vultures have no problem digesting rotten meat since special acids are present in their digestive system.
Tasmanian Devil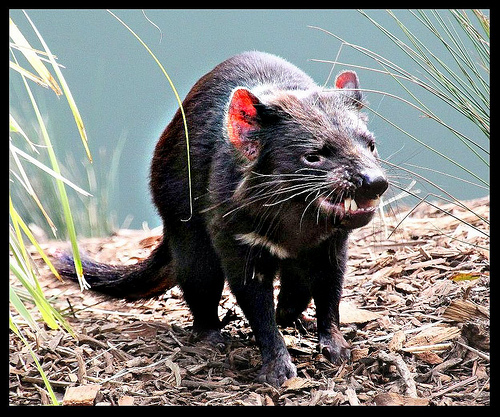 The size of a small dog, the Tasmanian Devil is a carnivorous marsupial native to the Australian island state of Tasmania. A ferocious hunter at night, Tasmanian devil has an outstanding sense of hearing and an excellent sense of smell. It both scavenge carcasses of dead animals and hunt prey such as; wombats, sheep, small mammals, birds, reptiles, fish, frogs and insects. On average, they can consume as much as 15% of their body weight each day. Published reports had it that in just 30 minutes, Tasmanian Devil can gobble up carrion as much as 40 % of their body weight. This animal will likely eat anything that smells like flesh.
Vampire Bat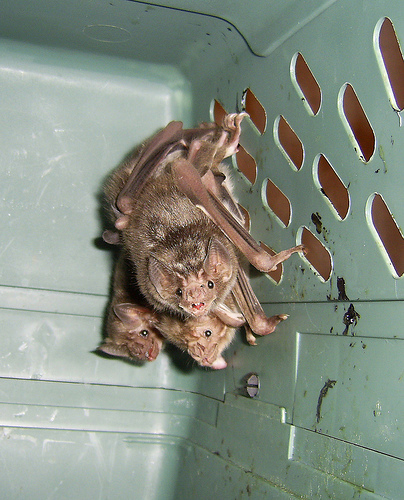 Common vampire bats are known to have a dietary trait called hematophagy, meaning its food source is blood. Typically a night hunter, they feed mostly on the blood of mammals. Occasionally, vampire bats feed on human. Once a host is spotted, usually a sleeping mammal, vampire bats approach the target on the ground and land. They are able to locate where to bite by using their infrared sensors. In case the located host has fur, they use their razor sharp teeth in making a 7 mm long and 8 mm deep cut. Did you know that these little creatures can consume blood up to five teaspoons in one sitting! And for survival, vampire bats will eat other vampire bats as a food supply resource.
Python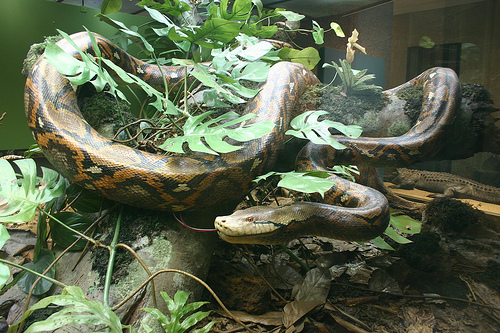 Pythons are non venomous snakes that are found in Asia, Africa and Australia. Python generally ambushes and then kill its prey by means of constriction. It feeds on almost everything that comes its way using a set of organs that can detect heat and a tongue with sensor capable of detecting the animal"s scent. Its diet includes; rodents reptiles, amphibians, birds and other mammals.
Python can ingest prey bigger than its head by slowly squeezing the helpless victim. It usually swallows its meal starting with the victim's head. A large meal will probably take days or even weeks to be totally digested since pythons have a slow digestive system. In this case, the snake may not need to eat again for months.
Argentinean wide-mouthed frog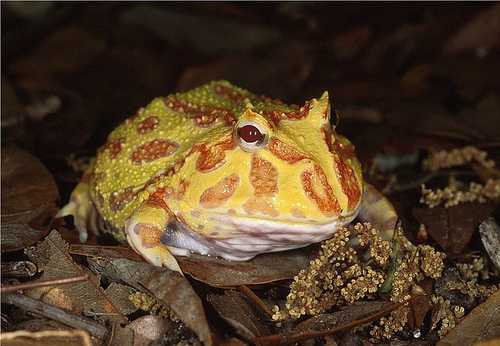 Argentinean Wide-mouthed frogs or Horned frogs are famous for its fearless reputation. These animals are probably created for the purpose of eating anything that fit in their mouths. They can consume anything it wants, is it smaller or bigger than their size. The horned frogs staple diet includes; insects, spiders, small lizards, rodents, and snakes.
Typically, it hunt by waiting for prey while remaining motionless. However, horned frogs have the tendency to bite bigger animals, including human when provoke. Did you know that these animals don't know when to say no to its meal that at times their tummies are literally bursting open due to overeating.
Hummingbird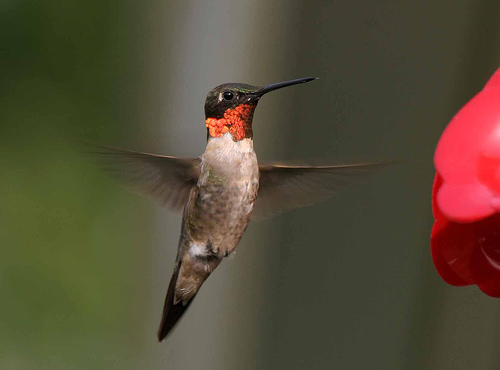 We always thought that small animals eat less, but don't say that to the hummingbirds. Considered the world's smallest bird, hummingbirds have a very odd eating habit. They need to feed every 10-15 minutes, usually sipping the nectar of a flower or even preying on spiders and other insects when feeding young. The hummingbird's heart beats 1,200 times/minute and flaps its wings 200 times in the same period. This tiny bird needs all nutrients it could get. Luckily, hummingbirds have an incredible metabolism.
Blue Whale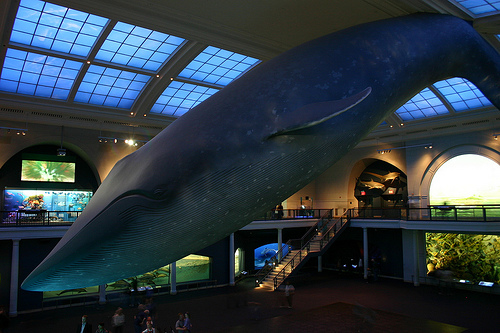 Blue whales are found throughout all the earth's ocean inhabiting continental shelves and ice fronts. They are the largest animals on the planet. These sea behemoths mainly feed on krill (a type of small shrimp-like organisms). Yes! You read it right, blue whales diets are generally small marine invertebrates, but they consume can up to 7,715 pounds of krill a day! Blue whales get a respite from their eating endeavor during its eight-month breeding season and usually refrain from eating anything at all.
Caterpillar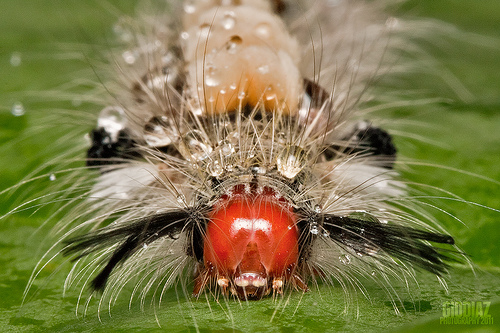 We all know that butterflies and moths do come from caterpillars. But did you know that, this small creature tops our list of "eating machines." Most caterpillars are known herbivores, and are voracious leaf eaters. Caterpillar grows very quickly, usually shedding their skin four or five times before it transform into an adult form.
As an example, Tobacco Hornworm can grow ten-thousand times its weight in about 20 days. It can consume 1,000 its bulk in less than three weeks. Caterpillar's voracious eating habit is based more on biological adaptability.