Finding Nemo! have you seen that great animated film? If so then you, could you give me what kind of fish is Nemo? Don"t no or not sure what to answer then read on to know where to classify Nemo…
Clownfish belong to the family Pomancentridae comprising about 28 known species from the subfamily Amphiprioninae. Clownfish are endemic on the temperate waters of the Pacific and Indian oceans, Red Sea and the Great Barrier Reef. They live side by side with sea anemones. Clownfish comes in different colors such as: gray, red, orange, yellow and some species may bear several patch patterns. Clownfish can reach up to 18 cm (7 in) in length while the smallest species is about 10 cm (4 in). In the wild or in an aquarium, clownfish are really colorful and fascinating ones. Listed below are 10 species of clownfish that will surely thrill you.
Maroon Clownfish (Premnas biaculeatus)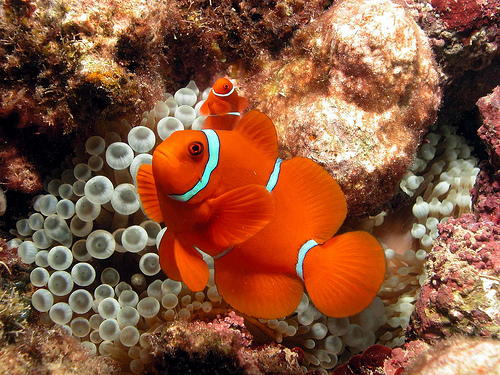 photo link
The maroon clownfish, also known as spine-cheeked clownfish, is the only species of the genus Premnas endemic in the Great Barrier Reef and in the Indo-Pacific region. Maroon clownfish can reach a length of 17 cm and bears white strife across the body. Females are usually bigger and have a more darker color than males.
Barrier Reef Anemonefish (Amphiprion akindynos)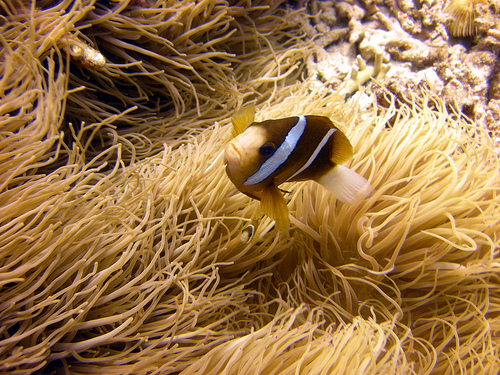 photo link
This species of clownfish lives in lagoons of the Great barrier reefs and Western Pacific including New Caledonia and Tonga. Adults can grow up to 9 mm in length and bear an orange-brown color mark with two white bars. The body is encircled with black edging. One bar runs along the head near the eyes and the other on the body below the dorsal fin.
Red Sea (or two-banded) clownfish (Amphiprion bicinctus)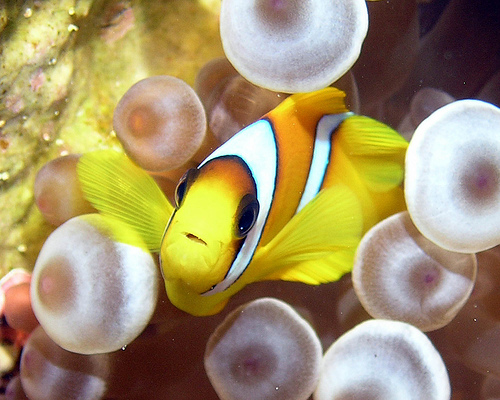 photo link
Found mostly on coral reefs besides sea anemones in the Red Sea and western Indian Ocean. Red Sea clownfish usually is yellow-orange in color with two black-edged white bands. They can grow up to 14cm. in length.
Ocellaris Clownfish (Amphiprion ocellaris)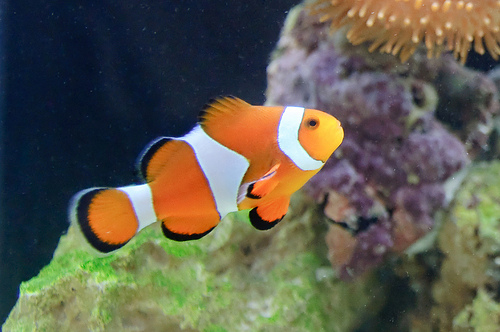 photo link
A very popular aquarium fish, Ocellaris Clownfish distinguishable mark is its orange color along with three white bars and the fins' black markings. Adults can reach a length of about 8 cm. In the wild, these clownfish are found off the Indo-Pacific inhabiting coral reefs. One peculiar and rare melanistic variety are found in Darwin, Australia (see photo).
Fire Clownfish (Amphirion melanopus)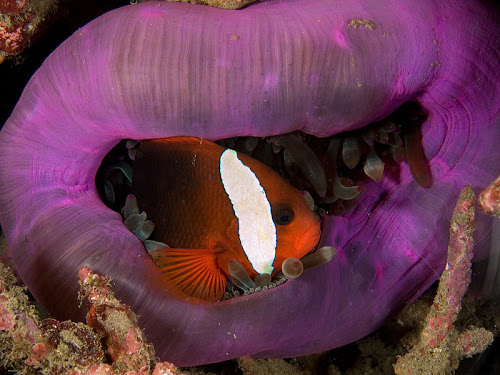 photo link
This clownfish species is endemic in the Great Barrier Reef, Indonesia, the Philippines, Micronesia and southern Polynesia. It is dark red to orange in color bearing a reddish-brown "saddle" on its back. Juvenile clownfish has white head band and adults can grow up to 12 cm.
Orange Skunk Clownfish (Amphiprion sandaracinos)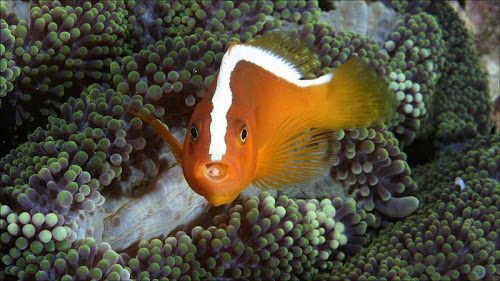 photo link
Another species that is popular among aquarium hobbyist, Ocellaris clownfish is bright orange in color and bear a white stripe that runs across the mouth, between the eyes and ends at the dorsal fin. They can grow up to 5.5 in. In the wild, it is found in the western Pacific Ocean.
Saddleback Clownfish (Amphiprion polymnus)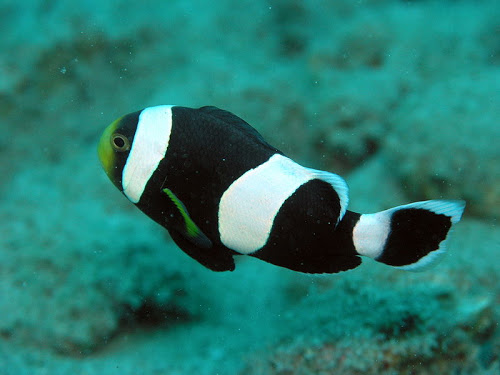 photo link
The saddleback clownfish is endemic in the western parts of the Pacific Ocean and eastern part of the Indian Ocean. Saddleback clownfish varies in color, from dark brown to yellow orange and a white bar runs behind the eyes. They can grow to about 12 cm in length.
Pink Anemonefish (Amphiprion perideraion)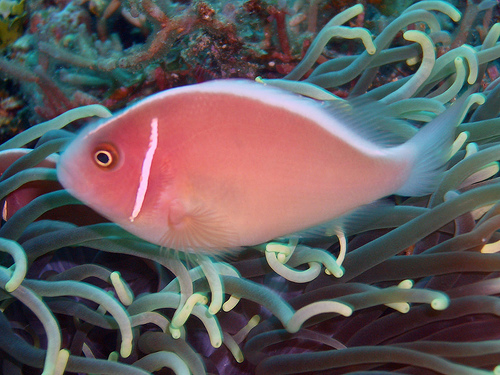 photo link
This species of clownfish is easily be recognized by its pink to pinkish-orange color and a narrow white vertical headband. Also, a thin white stripe is visible on its head that begins at the head's tip and runs on both sides and to the end of the dorsal fin. Pink Skunk clownfish is one of the smaller species that can reach a maximum length of about 4 inches. It is found off the waters of Christmas Islands and in the eastern Indian Ocean.
Yellowtail Clownfish (Amphiprion clarkii)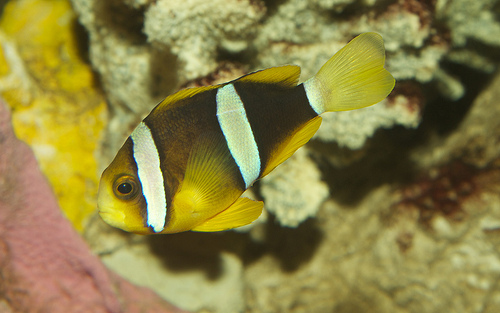 photo link
It is one species of clownfish that is widespread; found inhabiting reef slopes and lagoons in the tropical waters in the Indian Ocean, Pacific Ocean, Persian Gulf, Australia, Taiwan and Japan. Clark's Anemonefish can easily be recognized by its two white bands, one at the back of the eye and the other above the anus. Also, the tail fin may be white or yellow.
Sebae Anemonefish (Amphiprion sebae)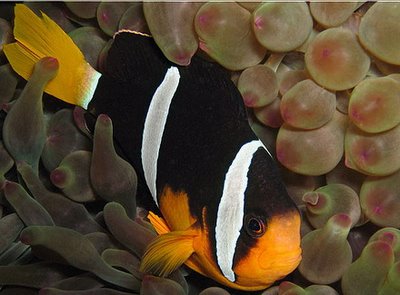 photo link
A rare clownfish species One clownfish species that is endemic in India, Sri Lanka and in some parts in the northern Pacific Ocean. It can attain a maximum length of up to 12 cm.
And here is Nemo… Orange Clownfish (Amphiprion percula)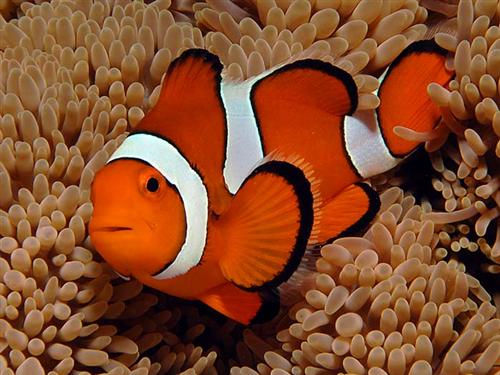 photo link